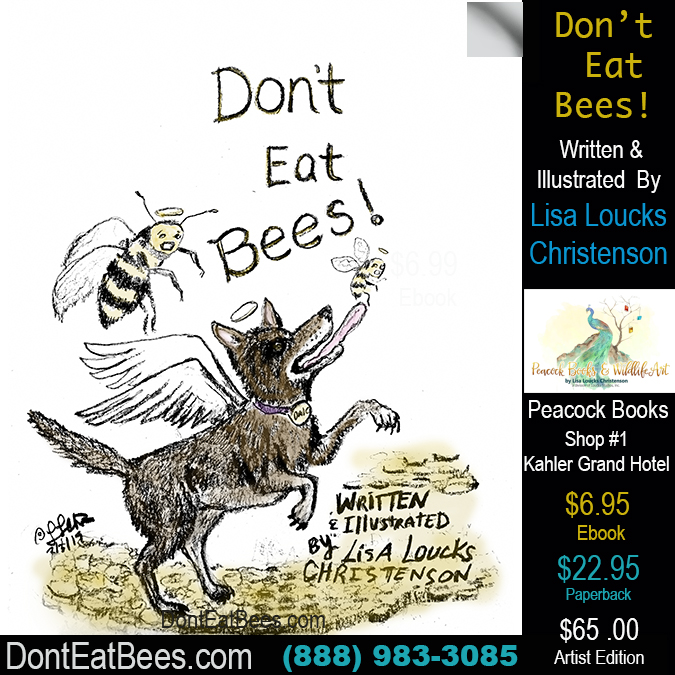 B&W illustrations created in pencil.
Don't Eat Bees!
Written & Illustrated by Lisa Loucks-Christenson
In loving memory of Dale Bernard Von Smaragdhügel
Born: 9/11/2004
Died: 2/02/2019
Photo: ©2008 Lisa Loucks Christenson | Dale and Lisa in the field on Lisa's Bald Eagle Documentary
Don't Eat Bees!
Don't Eat Bees! is the authors' literary tribute to Dale, her real bee-eating but never stung, German Shepherd.
Lisa trained Dale to sit for hours in the woods alongside her, while on her bald eagle documentary; Dale learned how to unzip her bag and get his own water bottle (why drink the creek when spring water was already in the bag?). Once, he had to retrieve her hat that he'd sneaked off with and left in the woods––a half mile away. On his 14th birthday, Dale didn't snap up his steak, he knew not to touch his t-bone steak sitting on the plate at his feet until Lisa was ready to take his picture. Lisa says that Dale could be trained to do anything that didn't interrupt his favorite pastime of chasing and snacking on bees.
Don't Eat Bees!


Dale, the bee-eating German Shepherd hits bee-gold when he unwittingly snatches up a tasty queen
!
The queen's sister (a retired queen bee, herself) offers Dale the deal of a lifetime and beyond––if he'll free her sister. Dale accepts the deal, but can the foolhardy dog give up his bee-eating and chasing habits, forever, 
and keep his heavenly reward?



Written and Illustrated by National Award-Winning Author Lisa Loucks-Christenson
Pre-Order (888) 983-3085
Sold Exclusively at:
20 Second Avenue SW, Shop #1
Kahler Grand Hotel, Rochester, Minnesota 55902
https://www.peacockbookswildlifeart.com/collections/all/products/dont-eat-bees
Silver Lake Books™
1518 North Broadway
Silver Lake Center
Rochester, MN 55906
(507) 512-3074
Created in original black and white pencil illustrations and pastels by Lisa Loucks-Christenson
Publisher: Bow Wow Detectives® | Childhood & Lifetime Books™
©2015-2020 Lisa Kay Loucks-Christenson IP Holdings, LLC. ALL RIGHTS RESERVED